Being in a confined space for extended periods of time, eating at the mercy of someone else, never having around someone you can call family: What am I describing?
Animal shelters and prisons.
Those who find themselves in these institutions find that redemption and reintegration are made difficult by circumstance and the way the outside world sees them. People think, "well, there must be a reason they're in there," and look away. It's true, they're there for a reason, but that doesn't mean they have to stay there.
Programs have been put in place to try and help prisoners learn how to be good citizens again. One strategy has some particular benefits: prisoners and dogs.
The idea is to educate prisoners on dog training and assigning them an at-risk dog that they can turn around. Some of the dogs are just trained to be family pets, while others are trained to become assistant dogs for wounded veterans or people with disabilities. The program ends up helping someone who needs a dog and helps the prisoner in more ways than one.
Benefits
Prisoners who participate in the program have a significantly lower recidivism rate, which is the rate of how many are reconvicted within three years of being released. The national recidivism rate is 67.8%, the rate for Texas is 21.4%, and the rate for those in the Patriot Paws program is 3%. Patriot Paws has only been ongoing since 2009 in 3 Texas prisons, but other programs have yielded similar results. One in Washington had 5%, and another by Leader Dog for the Blind has 11%.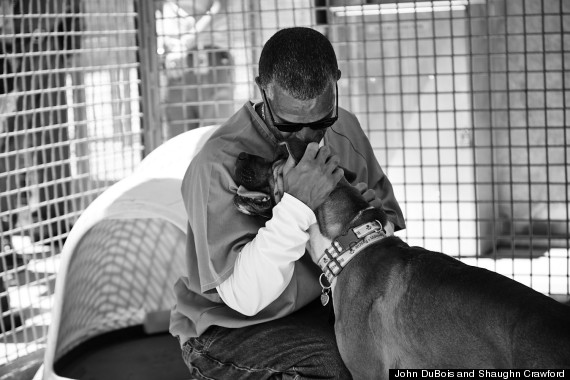 Participants learn skills that they could use once they get out, as well as emotional knowledge. When asked why they'd like to participate in Paws for Life, here's what they said:
"I know some people in society may think that we as prisoners don't have anything good left in ourselves or have redeemable qualities, or be allowed any goodness in our lives; however contrary to that thinking I know in my heart this to be the opposite. Having someone to even suggest that we as prisoners would be good candidates for the Karma Rescue (Paws for Life program) demonstrates my beliefs that we have much left yet to offer society even if we potentially will never again be a part of that society.Once again, thank you so very much for this program and opportunity. And, hey, who could better identify with a locked up pound dog than us?
:)" — Christopher
"I have been locked up for over twenty two years…The biggest reason why I want to help care for, feed, train and love the dogs; I want to be a part of giving someone something that will always love them and be there for them always. A person can give as much money the he or she has to charity or person, but no amount of money can love a person or go fetch a child's favorite toy or teddy bear. Please allow me to give a person more than words or money." — Oliver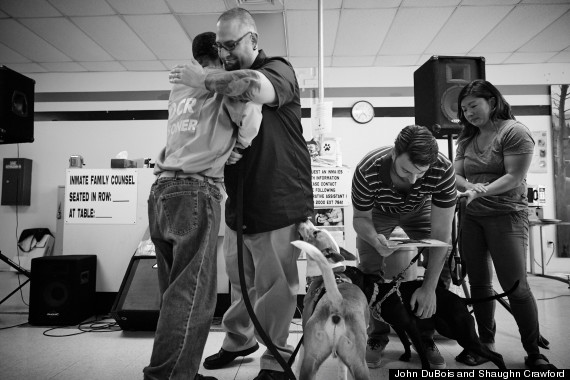 "My reason for wanting to be a part of Paws for Life is simple. For most of my life I lived a very selfish lifestyle which led me to prison. I see Paws for Life as a chance to save a dog's life. I understand what it's like to be caged up. Also I know this could be a life saving program for these dogs. Plus Paws for Life gives me the chance to give back, to do something for someone else, to give back to a society that I cheated … I do understand that a dog trained is a dog that's ready to be adopted, and a dog adopted is a life saved, and changed!" — Travielle
Someone outside gets a new best friend. The dogs get a second chance, since many of them might have otherwise been euthanized for aggression or just not enough space in shelters.
Lastly, the environment changes. Dogs have been proven to have a calming, therapeutic effect on humans. That's why we have dogs as service animals and not birds or monkeys. Having dogs in prisons puts everyone at ease, not just their handlers. Wardens and correctional officers notice that there's less fights since dogs were introduced to their prisons.
California
The Paws for Life program was brought to California State Prison Los Angeles County in Lancaster; it's the first in California to have the prisoners with life-sentences as trainers in a maximum-security prison.  Since 2003, they have saved 2,000 dogs and placed them in new homes. The program encourages an environment free of drugs and violence by making that the requirements to be a trainer. Prisoners must demonstrate good behavior for a certain amount of time before becoming eligible, and since many want to participate, it encourages others to get on the right path.
14 inmates were selected to work with a professional dog trainer a few times a week to learn how to train 5 dogs. Since the programs introduction, it has had a positive effect on all.
"Men who had not seen an animal in decades were openly emotional at the sight of the beautiful creatures before them. Just petting our dogs brought many to happy tears. It was a day I will never, ever forget," Founder Rande Levin said.